Colony
have released some details about two (well, technically 3-5 I suppose) new items they're putting onto the market by June-ish:
Here we have the first sneak peaks of Liam Fahy-Hampton's Hell Stallion forks to go along with his signature frame due out mid this year. These forks feature full heat treated Colonized tubing with weight saving drop outs. They are CNC'd from 6mm down to 5mm with an offset of 30mm. 10mm or 14mm drop outs will be on offer.

The fork legs are tapered from 31.8mm down to 25.4mm & use extra thick tubing for strength around the drop outs for all the peg tricks Liam likes to do. Weight of these ones are 895grams & they will come with our no questions asked LIFETIME warranty.

Expect them out in kit form with the Hell Stallion frame, Official stem & one of our headsets in June this year. You will be able to get them seperately in August.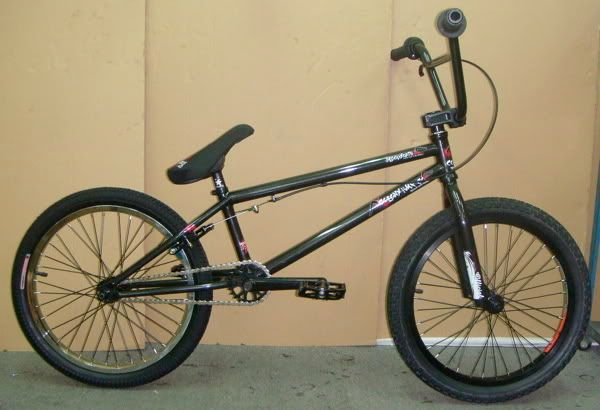 Bloody Oath LTD Completes.
There are only 75 of these being produced so be quick. The following countries will have limited stocks of these unique bikes.

Australia (40), USA (20), UK (5) Russia (4), New Zealand (2), Latvia (3) & Japan (1)

Depending on where you live on the planet the bikes will arrive in these countries in the next few weeks.

Crazy High Spec!
*Frame: Colony Bloody Oath Full Post Heat Treated Colonized CrMo 21"TT 13.75" rear, 75º HA, 71º ST, MID BB, Integrated HS Removable gyro tabs and built-in seat clamp. Smaller diameter tubing all round with slimline dropouts. 4.29lbs frame.
*Forks: Colony Official V3 full heat-treated CrMo with 3/8" dropouts.
*Brakes (rear): Dia-Comp CNC Alloy.
*Brake lever (right): Colony Transformer normal bend.
*Cable: Linear slick
*Headset: Colony Integrated.
*Stem: Colony Official stem, 7075 T6 CNC.
*Handlebars: Colony Bloody Oath bars. Full CrMo heat-treated.
*Grips: Wethepeople Rhombus.
*Barends: Colony Konka.
*Sprocket: Colony Official 25t CNC 7075 T6.
*Crankset: Colony, 3 piece, 48 splined with sealed MID BB.
*Chain: KMC
*Pedals: Wellgo MG-1 sealed, magnesium.
*Rims: Alex Supra Beta 36h (Black front, Chrome rear).
*Tyres: Primo Dirt Monster/V Monster (2.1 front, 1.9 rear).
*Spokes: Black stainless steel.
*Hubs: Front – Wethepeople Supreme(bolt style) 3/8".
Rear – Wethepeople Supreme Q-Lite cassette with 9t.
*Pegs: Colony OneWay Peg™ 3/8" and 14mm (1 x each).
*Seat: Colony Pivotal™ Mid seat.
*Seatpost: Colony Pivotal™ Stump Alloy.
*Weight : TBC but expected around approx 10.3kgs or 22.66lbs out of the box.
*Colourway: Metallic Black frame, fork & bars with Black parts.
Note: Final specs may change slightly

In un-related news,
UGP
have made the worst looking hoody in history:
In yet further un-related news,
Defgrip/TheComeUp
have done a new collab. vid, of
Spam
. Click
here
to check that one out.
Lastly
,
Streetphire
have got an interview up with
Chad Shack
who looks completely different to what he looked like on the
Over The Pond
tour...