Well, after pinning the
Down Low
tag on a few of their parts, the next component name the guys over at
Fit
pulled "seatpost" out of the hat next, and lo, here it is: The
Down Low Seatpost
:
I-beam internal setup
Shorter so you don't have to cut it down
That's pretty much it. It is, in essence, the same as every other massive guts I-beam post out there from virtually every company, just with less post.
Woo.
WTP
have finally released their
freecoaster
that's been in testing for quite a while now, the
Blind
.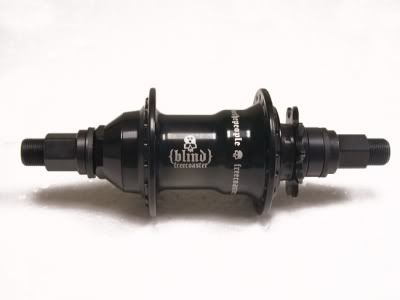 Rumour (and that's all it is so far, with
WTP
chosing to make fun of
KHE
instead of post much useful info...) has it that it uses the same internals as the
Rollex
, i.e. bad ones. Not ideal. Here's hoping that isn't the case, anyway.
While we're talking freecoasters, here's the early photos of the
G-Sport
freecoaster, just 'cos it looks so puuuuuurdy.
Remember
John
posting some photos of what used to be the
Eject Option
front hub, but is now the
Simple
Eject
hub after the Simple/Eject collaboration? Well, that's continuing now with the new
System
stem. What we're looking at here is basically a
Kink Relief
stem that doesn't make my teeth feel scared.
Same clamping deal, but possibly a bit stronger? Who knows...
Keep updated on
Stephen Murray's condition
by hitting up
BMXTalk
, and go to the main riding forum, then check out the stickied thread about him. Gets updated every day or two by his family, so you know it's reliable.
Lastly,
Mat Hoffman's
old
Haro Master
, and a crazy video from the
Mansfield King of Vert
comp. Weird how times change. (from
RideBMX UK
)